At Vitality Health New York we believe in providing you with an intergrated medical approach to get you out of pain and live your life to the fullest potential. We offer expert NYC Acupuncture services designed to alleviate pain quickly and help your muscles relax so you can recover from injuries in a shorter time frame.
Most people find acupuncture extremely relaxing and many fall asleep during treatment. Acupuncture works with the natural vital energy inherent within all living things to promote the body's ability to heal on its own.
This form of healing is based on energy flow while western medicine focuses on a biochemical model. The ancient Chinese recognized a vital energy in all life forms and all life processes.
This vital energy is known as Qi and is the energy that flows through the body in channels known as meridians. This is what nourishes as connects our major organs. According to this theory, acupuncture adjusts the flow of qi in the body, draining it from areas of excess and leading it to an area where it is insufficient. In this way, acupuncture restores the harmonious balance of the body and its parts.
Acupuncture works with natural vital energy inherent within all living things to promote the body's ability to heal itself. Acupuncture is based on an energetic model rather than the biochemical model of western medicine.
According to the Chinese medical theory, illness arises when the cyclical flow of Qi in a meridian becomes unbalanced or is blocked. This is much like a dam blocking a river, creating imbalance and pain.
Stimulating acupuncture points influences the meridians, unblocks obstructions, and helps re-establish the regular flow of Qi through the meridians.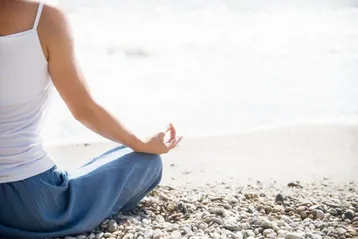 Acupuncture points are specific locations along these meridians. Each point has a predictable effect upon the vital energy (Qi) passing through it. This alters various biochemical and physiological conditions in order to achieve the desired effect.
Modern science has been able to measure the electrical charge at these points, thus confirming the meridians mapped by the ancients.
A more scientific explanation of Acupuncture is that the stimulation of certain Acupuncture points on the body prompts the body to release certain hormones and chemicals that can reduce pain, regulate the endocrine system, and calm the nervous system.
Acupuncture profoundly influences the central and peripheral nervous systems directly. In this way there is a release of endorphins from the brain which affects blood sugar, cholesterol levels and benefits the gastrointestinal system.
Some of the physiological effects observed throughout the body include increased circulation, decreased inflammation, relief of muscle spasm and alleviation of pain. In addition acupuncture boosts the immune system by increasing T-cell counts.
One example of this is the hypothalamus-pituitary gland which is responsible for releasing neurotransmitters and endorphins. These are the body's natural pain-killing hormones. It is estimated that endorphins are 200 times more potent than morphine, providing an excellent way to naturally reduce pain.
Endorphins also play a big role in the functioning of the hormonal system. This is why acupuncture works well for medical conditions such as p.m.s. and infertility.
Substances released as a result of acupuncture not only relax the whole body, they regulate serotonin in the brain. This plays a role in a human's psychological disposition and behavior. Depression can be treated with acupuncture, once again allowing for a natural drug free approach to treating this medical condition.
We offer you an integrated team approach designed to get you out of pain quickly and bring you to recovery and improved functionality.
Vitality Health New York provides you with the experience of our Chiropractor, Physical Therapist, Acupuncturist, Massage Therapist and Medical Doctor who will correctly identify the cause of pain and symptoms.
We work together as a team to help you get out of pain quickly and live to your optimal level.
You can call our Midtown Manhattan NYC location next to Grand Central by dialing (212) 245-5688. You can also request an appointment online by clicking here.